"We have a single focus in this work: Save lives."
Governor Gina Raimondo
---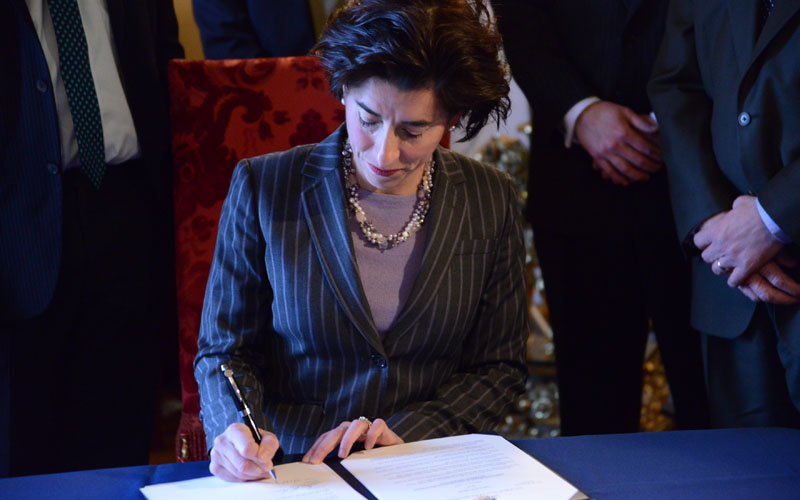 NEW See the Governor's Task Force Strategic Plan 2019-2021 Update.
Governor Raimondo's Overdose Prevention and Intervention Task Force sets an ambitious goal to reduce opioid overdose deaths by one-third within three years. In July 2017, the Governor signed an Executive Order that enhances the existing strategies of the Task Force's Action Plan in the areas of prevention, treatment, rescue and recovery.
The Task Force meets monthly from 11:00am-12:30pm on the 2nd Wednesday of each month at the Department of Administration in Conference Room 2A. Task Force meetings are open to the public.
Upcoming agendas and minutes are posted on the Rhode Island Secretary of State's website the Friday before each Governor's Task Force meeting.
---
Co-Chairs
Nicole Alexander-Scott, MD, MPH, Director of the Rhode Island Department of Health (RIDOH)
A. Kathryn Power, M.Ed., Director of Behavioral Healthcare, Developmental Disabilities, and Hospitals (BHDDH)
---
Task Force Expert Advisers
Jef Bratberg, PharmD; The University of Rhode Island, Department of Pharmacy Practice
Brian Daly, MD; Chief Medical Officer, BHDDH
Jonathan Goyer, Director, Rhode Island Recovery Friendly Workplaces
Traci Green, PhD; Boston University School of Medicine and Warren Alpert Medical School of Brown University
Brandon Marshall, PhD; Brown University School of Public Health
Josiah Rich, MD, MPH; The Miriam Hospital
Stephanie Yarnell-MacGrory, MD, PhD; Assistance Chief of Psychiatry, BHDDH
---
Task Force Members
Acting Director Kevin Aucoin, Rhode Island Department of Children and Families
Jennifer Bryan, Community member
Alexander Chirkov, MD; State Center for the Office of Medical Examiners, RIDOH
Raymond Coia, New England Laborers Health and Safety Fund
Matthew Collins, MD; Blue Cross & Blue Shield of Rhode Island
Director Patricia A. Coyne-Fague, Rhode Island Department of Corrections
Thomas Davis, CVS Pharmacy
Catherine DeGood, DO; Care New England
Heidi Driscoll, Rhode Island Regional Prevention Coalitions
Christy Durant, Rhode Island Dental Association
Mary Dwyer, MS, M.Ed., APRN-CNS; Rhode Island Nurses Association
Representative Jay Edwards, Rhode Island General Assembly
Ryan Erickson, Policy Advisor, Office of Governor Gina M. Raimondo
Honorable Michael J. Feeney, Rhode Island Workers' Compensation Court
Sarah Fessler, MD; Rhode Island Medical Society
Marie L. Ganim, PhD; Rhode Island Health Insurance Commissioner
Jane Hayward, Rhode Island Health Center Association
Linda Hurley, CEO; CODAC, Inc.
Susan Jacobsen, Director of Health Equity Initiatives, Thundermist Health Equity Zones Initiative
Scott R. Jensen, Department of Labor and Training
Thomas F. Joyce, LCDP,CPRS; East Bay Recovery Center
Melanie Lippman, MD; Emergency Medicine, Lifespan, Inc.
Laurie MacDougall, Parent Support Network of Rhode Island and Family Task Force
Colonel James Manni, Rhode Island State Police
James McDonald, MD, MPH; Rhode Island Board of Medical Licensure and Discipline, RIDOH
Michelle McKenzie, Preventing Overdose and Naloxone Intervention (PONI)
Senator Joshua Miller, Rhode Island General Assembly
Peter Neronha, Attorney General
Patricia Ogera, MD; State Center for the Office of Medical Examiners, RIDOH
Taino Palermo, Commission on Health Equity and Advocacy
Peter Ragosta, RPh; Rhode Island Board of Pharmacy, RIDOH
Jason Rhodes, Department of Health, Emergency Management Services, RIDOH
Mike Rizzi, Harm Reduction Representative
Honorable Kristin E. Rodgers, Associate Justice, Rhode Island Superior Court
Monica Smith, Rhode Island Communities for Addiction Recovery Efforts (RICARES)
Susan Storti, PhD, RN, NEA-BC, CARN-AP; The Substance Use and Mental Health Leadership Council of Rhode Island
Chief Brian Sullivan, Rhode Island Police Chiefs Association
Teresa Paiva Weed, Hospital Association of Rhode Island
Aaron L. Weisman, Esq.; United States Attorney
Secretary Womazetta Jones, Executive Office of Health and Human Services
Kasim Yarn, Office of Veterans Affairs
---
MORE RESOURCES