"We have a single focus in our work to address the overdose crisis: save lives."
Governor Gina Raimondo
---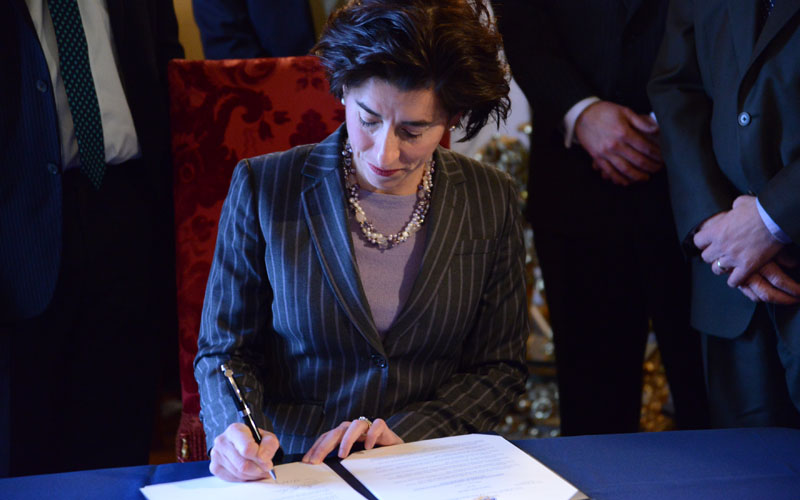 Governor Raimondo created the Task Force to address Rhode Island's addiction and overdose crisis. Task Force meetings are open to the public.
The Task Force meets monthly from 11:00 am-12:30pm on the second Wednesday of each month at the Department of Administration in Conference Room 2A.
Note: From May through September 2017, the Task Force will meet at the Department of Corrections Dix Building (Building #94), located at 18 Wilma Schesler Lane in Cranston, RI. The Dix Building parking lot is open to the public, however, parking is limited. There is a parking lot across the street that typically has plenty of parking. Clearance is not required at the Dix Building.
---
Co-Chairs
Dr. Nicole Alexander-Scott, MD, Director,
Rhode Island Department of Health (DOH)
Rebecca Boss, MA, Director,
Behavioral Healthcare, Developmental Disabilities, and Hospitals (BHDDH)
---
Members & Expert Advisors
Thomas Davis, CVS Pharmacy
Representative David Bennett, Rhode Island General Assembly
Senator Joshua Miller, Rhode Island General Assembly
Taino Palermo, Commission on Health Equity and Advocacy
Susan Jacobsen, Director Health Equity Initiatives, Thundermist Health Equity Zones Initiative
Dr. Melanie Lippman, Emergency Medicine, Lifespan, Inc.
Jane Hayward, Rhode Island Health Center Association
Dr. Matthew Collins, Blue Cross & Blue Shield of Rhode Island
Dr. James McDonald, Rhode Island Board of Medical Licensure and Discipline
Peter Ragosta, RPh, Rhode Island Board of Pharmacy
Mary Dwyer, Rhode Island Nurses Association
Dr. Robert Bartro, Rhode Island Dental Association
Dr. Sarah Fessler, Rhode Island Medical Society
Mike Rizzi, CODAC, Harm Reduction Representative
Nancy DeNuccio, Ocean State Prevention Alliance
Erin McDonough, Drug Overdose, Prevention and Rescue Coalition
Dr. Elinore McCance-Katz, BHDDH Medical Director
David Spencer, Drug and Alcohol Treatment Association of Rhode Island
Michelle McKenzie, Rhode Island Communities for Addiction Recovery Efforts
Deb Dettor, The Providence Center and Anchor Recovery Community Centers
Jef Bratberg, PharmD, University of Rhode Island, Department of Pharmacy Practice
Chief Brian Sullivan, Rhode Island Police Chiefs Association
Dr. Kathleen Hittner, Office of the Health Insurance Commissioner
Anya Rader Wallack, Office of Health and Human Services
Carol Blanchette, Rhode Island Department of Education
Jason Rhodes, Department of Health, Emergency Management Services
Dr. Alexander Chirkov, Dr. Patricia Ogera, Department of Health, Medical Examiner's Office
A.T. Wall, Department of Corrections
Colonel Anne Assumpico, Rhode Island State Police
Peter Kilmartin, Attorney General
Dr. Josiah Rich, The Miriam Hospital
Traci Green, PhD, Boston University School of Medicine and Warren Alpert Medical School of Brown University
Brandon Marshall, PhD, Brown University School of Public Health
Jon Goyer, ANCHOR MORE Program
Barbara Goldner, LCSW, Community member
Trista Piccola, Department of Children and Families
---